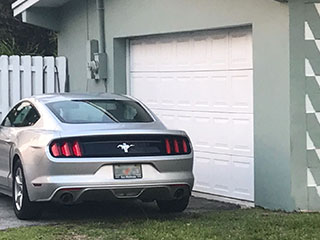 It's nice sharing opinions and information about garage doors with friends and it is also useful talking about the value of maintenance and exchanging a few safety tips. The point is not to forget everything you talked about the minute you return home. Theory is as good as you make good use of it! It will be meaningful only if you implement what you so strongly advocate when talking with friends. If you have a tendency giving lectures about the benefits of garage door maintenance or agree with others speaking highly of such a service, ask yourself if you follow your own beliefs! There is no need to break down the benefits of maintenance. Everyone owning a garage door knows well that the most frequently it is serviced the better it will work. It will also be safer, last longer and never betray you by remaining closed when you are in a hurry to go.
Regular maintenance involves many steps. The technicians of Garage Door Repair West Milford start with inspections, carry on with lubrication maintenance and repairs, and make sure the door is balanced and moves fine. There are many things to do in order to keep the door in good shape. From checking to fixing the door's force, setting the travel garage door opener limit, testing the reversing mechanism and repairing a few parts, one's hands are full when involved in such tasks. The truth is it's not always easy to maintain the door, especially if there are some particular problems. If you try to carry out the service on your own, don't forget that you might not see some problems and will soon be faced with them. What you can do is inspect and perhaps lubricate. After all, routine inspection is probably the most critical step of the maintenance service because it will give you an idea of what condition the whole system is in.
Check All Parts Visually from a Distance
Start by opening and closing the overhead door a couple of times or as many times as you want till you figure out where the bad noise comes from. If there are no loud noises, you will still need to open and close the door just to check that it comes up and down all the way. Checking the door and all garage door parts visually is of the essence. You can write down questions or things you noticed so that everything will be fixed properly. Although you shouldn't engage in any repairs, still you must take the right precautions. Some parts, like the cables or tracks, might be frayed and so it's better if you wear gloves. It's also necessary for you to wear safety glasses and avoid loose clothes and jewelry. Don't climb on ladders and if you disengage the opener and open the door, don't forget to put c-clamps under the rollers to keep the door from sliding down.
Check the main parts. Remember that steel parts erode over the years. These parts should be replaced eventually or they will start making awful and loud noises. With touching or even coming close to the springs, see if they are sagging or have rusty bearings and brackets. If the springs sag, you should check the balance of the door when you are done inspecting the other parts. In order to do that you will have to stop the door mid-way down at the height of your chest or waist. It should stay still. If not, check its movement. Does is slide down? Spring tension must be added. Does it go up? Spring tension must be released. Make sure the cables are alright and wrapped around the drum. Then check the tracks from top to bottom to see if there are any dents. Rollers get rusty over the years, too. Check them and while you are there make sure the hinges are tightened. Do not touch the bottom bracket and if you spray lubricants, do not overdo it!